Animal Free And Delicious
Bring your loved ones together for fresh and tangy meals, snacks and desserts made with creamy and delicious Animal Free Cream Cheese spread.
Creamy Pasta with Veggies Recipe
You'll want to add this easy pasta recipe to your weekly rotation. Fresh broccoli florets, red bell peppers, crunchy carrots, garlic and a creamy mixture of either Nurishh Animal Free Chive & Onion Cream Cheese or Original Cream Cheese Spread over warm penne pasta—it's everything you could ever want from a pasta recipe. This broccoli pasta recipe is sure to impress at your next dinner party or date night.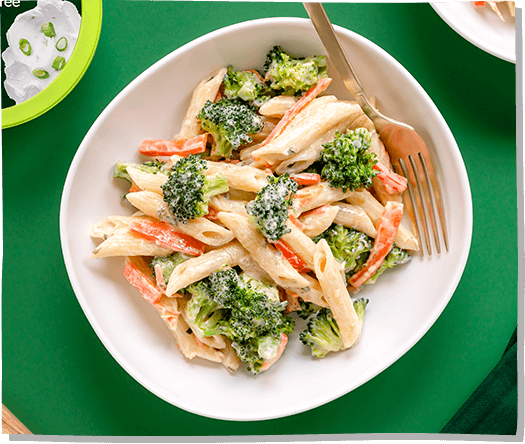 how to make
Cook pasta according to package directions. Drain.
Heat oil in large skillet over medium heat. Add garlic and sauté for 30 seconds and add remaining vegetables. Cook and stir for 3-4 minutes, or until vegetables are crisp-tender. Remove vegetables from the skillet; set aside.
Add broth into skillet and bring to a simmer over medium heat. Whisk in cream cheese spread and salt, whisking until smooth.
Add pasta and vegetables to skillet; toss to coat.
Serve immediately.
what you need
8 oz. whole grain penne pasta (about 2 cups)
1/2 tbsp. olive oil
2 garlic cloves, pressed
2 cups small broccoli florets
1 medium red bell pepper, cut into thin strips and cut in half crosswise (3/4 cup)
1 small carrot, peeled and grated
1/2 cup vegetable broth
1 tub (6 oz.) Nurishh Animal Free Chive & Onion or Original Cream Cheese Spread
1/4 tsp. salt